Allen Mountain, February 28, 2004
After the big camping trip with Sam, and after reading all of those reports on Views from the Top about how great the trail was into Allen, how could I resist this challenge. After all, the hike is only 18 miles long, the first 8 a rambling and slow climb to the base of Allen, and then it is only about a mile and 2000 feet to the top. Then reverse engines. The forecast was perfect too: Upper 20s to low 30s, and sunny.
This was a staged approach, with a night spent in Schroon Lake for the early departure. The first disappointment was the local diner, which did not open according to schedule. So it was grab a bagel from the local Stewarts, and head on up to Tahawus. Arrival at trailhead around 6:30, and on the trail by 6:45. The trail register showed one person ahead of me. Pretty soon the sun came up and I was walking and walking. Minor snowshoe repair required about 1/2 way to the mountain. Crossed Skylight Brook, stashed some extra gear, and started climbing. OY is that bugger steep. By now the snow has softened with the warm sunshine, and it was two steps up, one step backwards. After an embarrassing 2 1/2 hours, I was on top, with one of the greatest feelings of accomplishment. Going back down was not that much faster, with a lot of slipping and sliding on the steep slope, even with those nice Atlas snowshoes. Then the death march out. Things got a little interesting about half way back, with some animal making some ungodly noise in the woods. A screech owl maybe? The last few hours of the hike were spent under the half moon, which was plenty bright for hiking. Back to the car, and a glorious bag of Fritos at about 8:30. LONG DAY!
By the time I hit the Farm, I was totally whipped. After a long shower and a big meal it was off to slumberland, which I found after about two deep breaths.
Allen is a mountain to do once, in my book.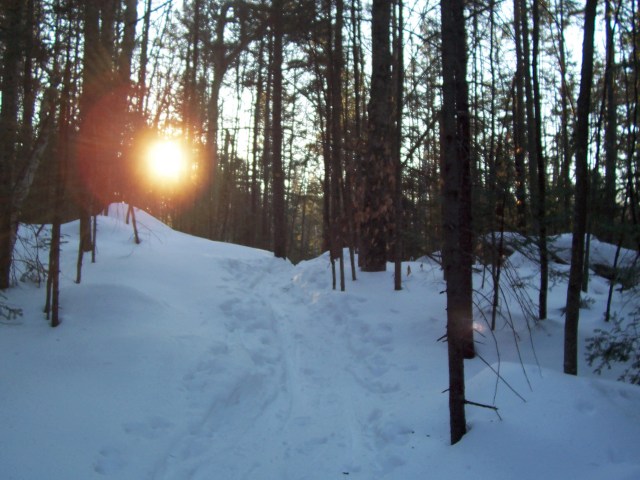 First light along the trail, which was a beautifully packed snowshoe trail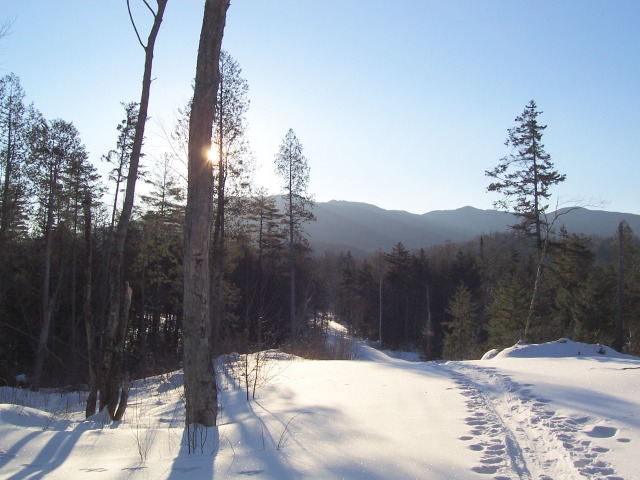 The ridge comes into view. Allen is a long ways off.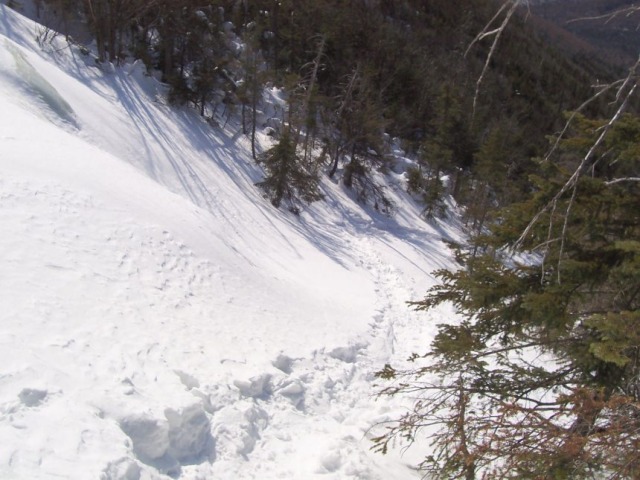 Two-thirds up, looking down the slide. STEEP!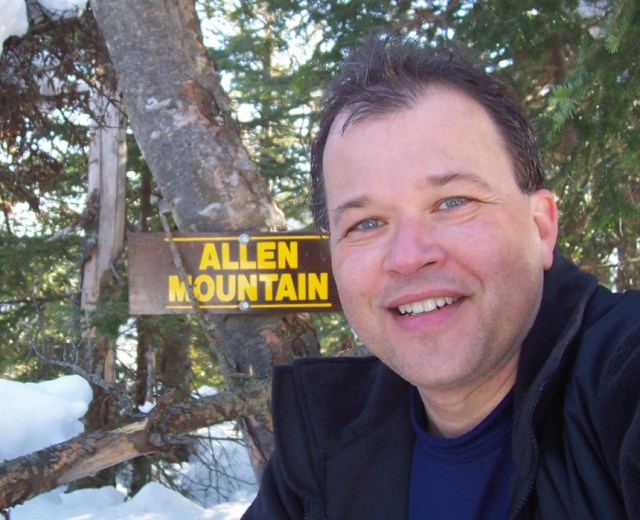 PROOF!
Peek-a-boo view of Haystack Mtn.
Part way home, saying good-bye to the sunlight. Only five or six miles to go.