Cannon Mountain, October 3, 2004
On what was easily the most spectacular day of the year, there was one mountain on the menu: Cannon. Home to the former Old Man of the Mountain (R.I.P.) and a ski area to the north, it is a popular spot, and the perfect skies, unlmited visibility, and pleasantly cool (OK it was really cold at the bottom) made this a destination for the masses. The route up was the Hi-Cannon Trail, which wastes no time getting to the top in about 2.8 miles. Plenty of lingering and enjoying the 360° view, then down the Kinsman Ridge Trail to the Lonesome Lake Trail and out. That Kinsman Ridge Trail was a knotty little affair, dropping pretty much straight down for a half mile. All that followed by some great food and a beer at the Woodstock Inn & Station. And the Pats won. Stats: 6.1 miles, 2350 feet, in a leisurely 4.5 hours or so.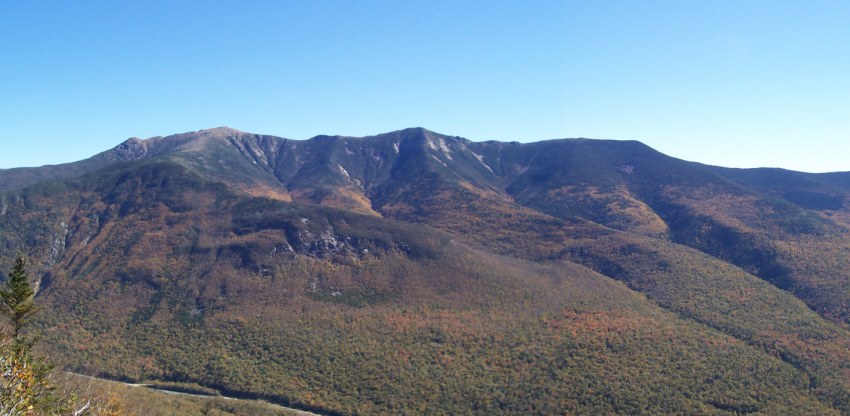 The view from the summit ledges: Lafayette, Lincoln, and Little Haystack across the valley.
| | |
| --- | --- |
| | The one ladder stretch on the Cannon Hi-Trail. The trails were nice and dry, no problems going up or down. |
| | |
| --- | --- |
| Looking down on Lonesome Lake and the huts in the upper right corner. | |
| | |
| --- | --- |
| | Dave, Sean and Dave on top of Cannon Mtn. |
| | |
| --- | --- |
| One of the spectacular cliffs on the Kinsman Ridge Trail.* | |
*Actually it's just a rock.