Colvin & Blake, October 12, 2004
Well you could not have asked for a finer fall day. The morning temperatures were somewhere in the low 40s, the sky was ultra-clear, while the mountains were cloaked in morning clouds. The last winds of the big Atlantic storm were moving away, and as the clouds lifted, the mountains were left with a frosting of rime ice above 4200 feet. There were two other people on the trails, and just a few more wandering the Lake Road. Even though the colors were a bit past peak, there was still plenty of orange and red in the valleys. As for the mountains themselves: Well maintained trail to Colvin, with a couple of scrambles along the way. The 1.3 mile hike from Colvin to Blake had me doubting I would ever find the need to return to this trail. However, now that it has been about three dozen years since we did the Great Range, it's time to start thinking about peaks like Basin, Saddleback and Gothics again! Stats for this hike: 13.5 miles, 3700 feet of climbing (a very rough guestimate), 8 hours total.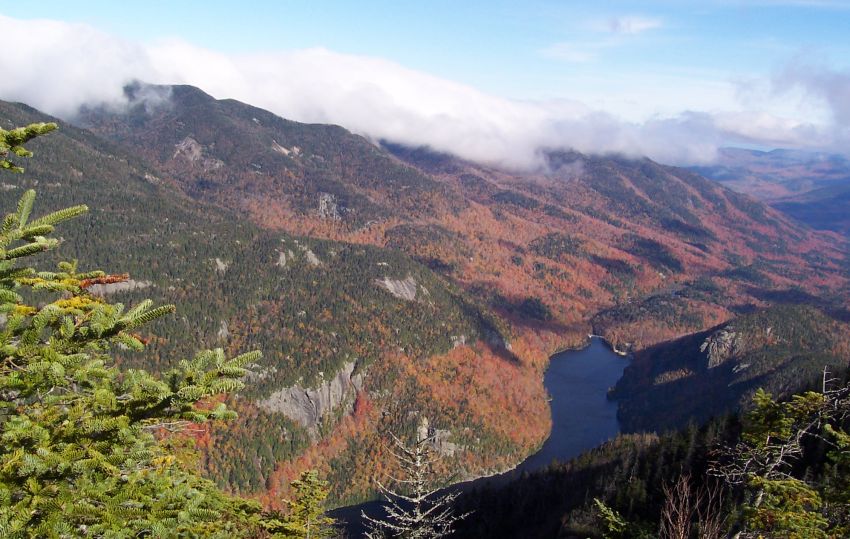 Looking towards Armstrong and the Wolf Jaws, in the morning clouds, with Lower Ausable Lake.
The Indian Head Cliff is to the right of the Lake, just catching the morning light.

Sawteeth and Gothics before the clouds lifted.
| | |
| --- | --- |
| | The entrance to the Adirondack Mountain Reserve at St. Huberts. Nice use of curved wood! |
A little treat left on the trail. Who did this?

*Answer below
| | |
| --- | --- |
| | A steep spot on the trail to Colvin. |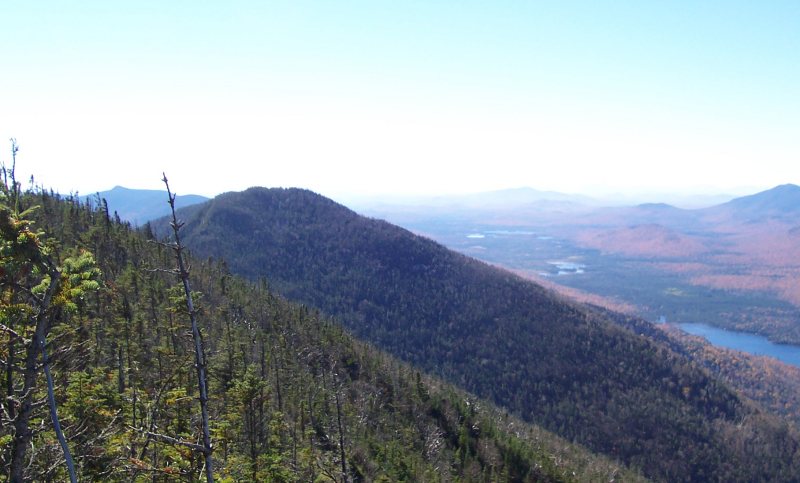 The view from Colvin towards Blake. In between there is a nasty little climb down,then back up.
| | |
| --- | --- |
| | One of the nasty stretches on Blake. Always steeper than it looks, and the rock was smooth and muddy here and there. Those roots came in handy, and were always just within reach. |
| | |
| --- | --- |
| One of the finer views from Blake, looking back towards Colvin. Giant is peaking out in the distance. | |

Back on the summit of Colvin around 1:00 p.m.
Upper Ausable Lake, Allen Mtn., Redfield, Skylight, Haystack, Marcy in the way back behind Haystack,
Tabletop (under the cloud) and Basin. Click the photo for a key map.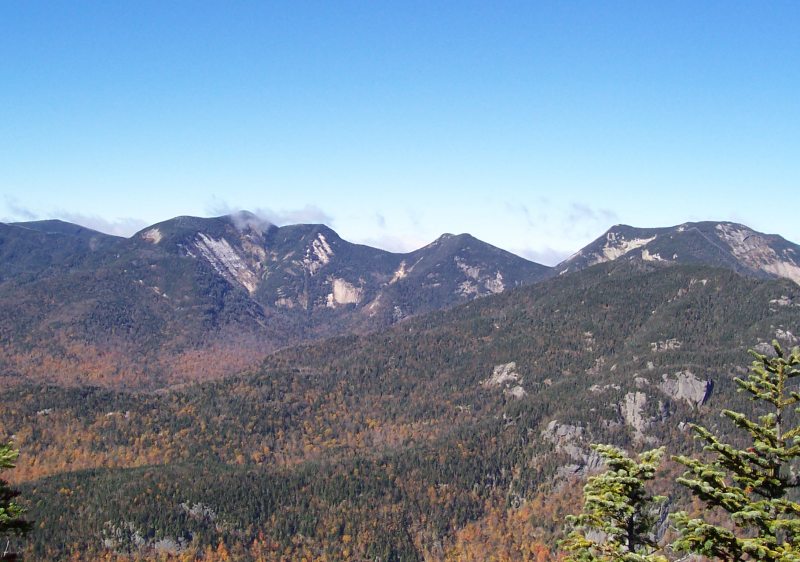 From the left, Tabletop (way back), Basin, Saddleback, Gothics

Gothics, Armstrong and the Wolf Jaws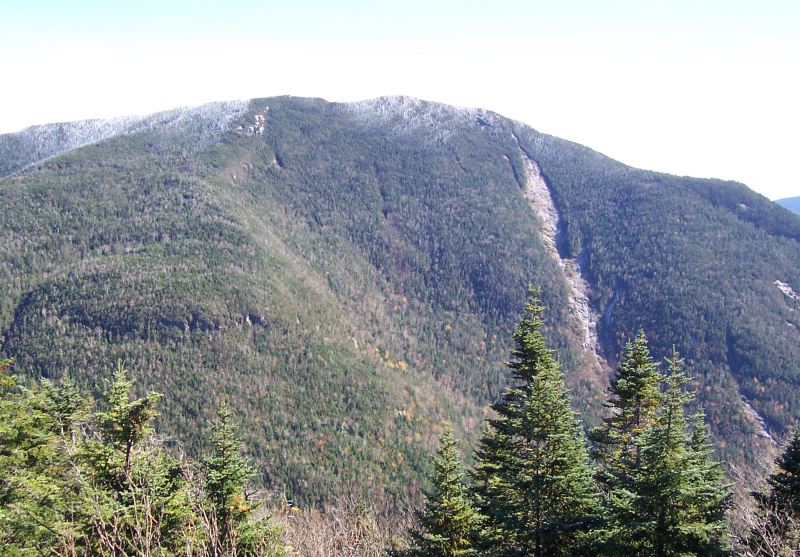 The view from Colvin to Nippletop, with the rime ice still on the trees.
Very interesting slide! We'll have to put that on the to-do list.
A visit with Bambi on the way out.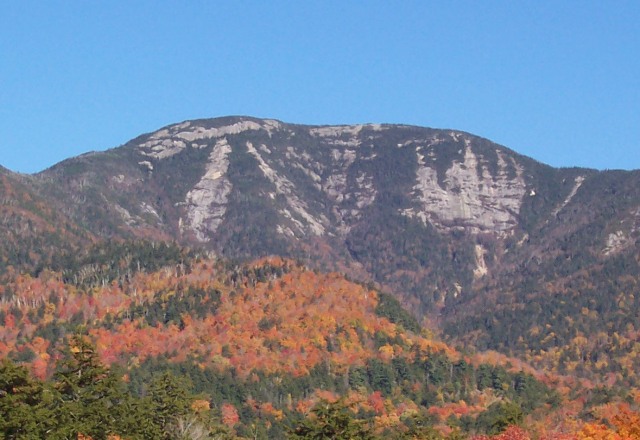 From St. Huberts, the view towards Giant. The large slide on the right
is the Eagle. We climbed the second feather from the right back
in 1976.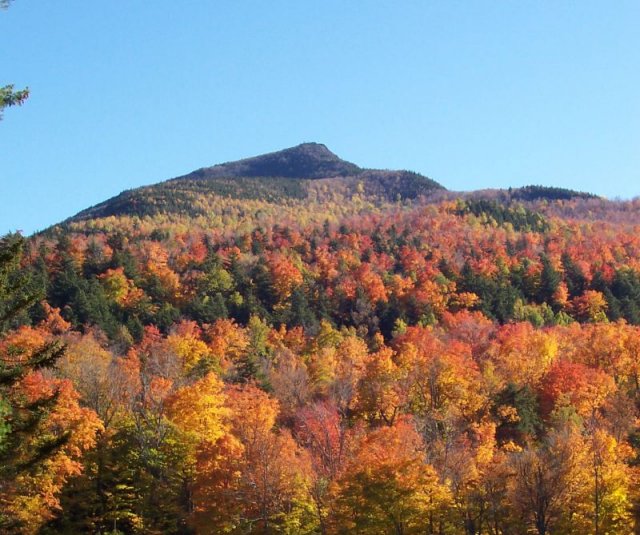 Noonmark, from St. Huberts.
*The poop belonged to a pine marten.