Mt. Flume and Mt. Liberty, September 25, 2004
We, Hope, Jon and Dave, arrived at the parking lot for Flume with a lot of anticipation of the Flume Slide Trail. The guidebooks urged caution on the slippery rocks, which are also almost always wet. With a report of 50° on top of Mt. Washington, it was clearly going to be a nice warm day--and it was. The climb up Flume is a few miles of mellow approach, then one mile straight up. The Slide Trail is a narrow jag of rock and scree. What was great about the rock was the total lack of traction in places. Very interesting. On top the views were a wide open 360°, obscured only by the haze. A quick jaunt from Flume had us on Liberty in about thirty minutes. Many friendly folks on the tops. Great to meet Andy from Ipswich and to hear his many tales of hikes in the Whites and beyond. Hope gets to choose the next mountain. Statistics: 9.8 miles, 3700 ft., 6.5 hours, with lots of time out for chatting. Mt. Flume is 4328 ft. Mt. Liberty is 4459 ft.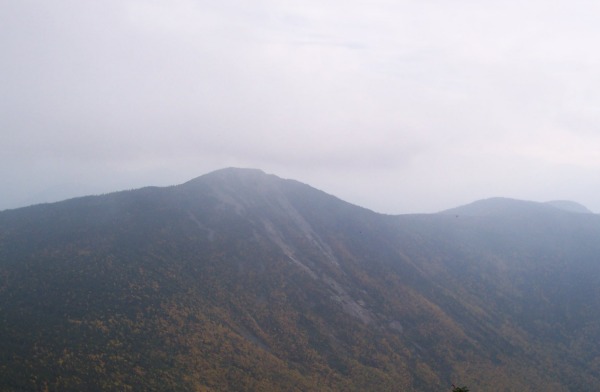 Flume Mtn, in the haze and fog. The Flume Slide Trail comes up this face, a little to the right of the big slide on the right.
| | |
| --- | --- |
| | The Flume Slide Trail. Jon kept the pace up on the steep sections. We climbed on stuff like this for .7 miles. Steep, slippery, and . . . interesting. |
Just before the top of Mt. Flume there is a nice overlook. Jon & Hope lead the way.
| | |
| --- | --- |
| A glimpse down towards the valley. The camera does not tell all--it is actually steeper than it looks. | |
| | |
| --- | --- |
| | Looking toward on next peak--Liberty Mtn. about a mile off. |
| | |
| --- | --- |
| Mt. Lincoln and Mt. Lafayette along the ridge in the distance. | |
| | |
| --- | --- |
| | Hope and David chatting with hiker Andy from Ipswich. Dave is describing the sandwich he just ate. |
| | |
| --- | --- |
| Looking back towards the peak of Mt. Liberty | |
| | |
| --- | --- |
| | A visitor along the trail. This gray jay conned a little food from us, then split. |