The Kinsmans & The Cannonballs, September 3, 2004
This started off as another hike into the clouds, which was contrary to the evening weather report. I was greeted by a lovely trio of black-throated blue warblers at The Basin. The walk was easy for the first mile and a half over the well-maintained Basin-Cascade and Cascade Trails. I then followed the Kinsman Pond Trail. What a treat. This trail sees very little traffic, and I did not see a soul. The trail follows a few little brooks, the area is really moist, and this has to be the place where green was invented. By the top of the first two mountians, N. Kinsman and S. Kinsman, I was still in the clouds, with a hint of sun here and there. The sun did come out as I bopped over the Cannonballs on the Kinsman Ridge Trail. Being a little tired, I decided to leave Cannon Mtn. for another day. This was another great hike, loaded with water features.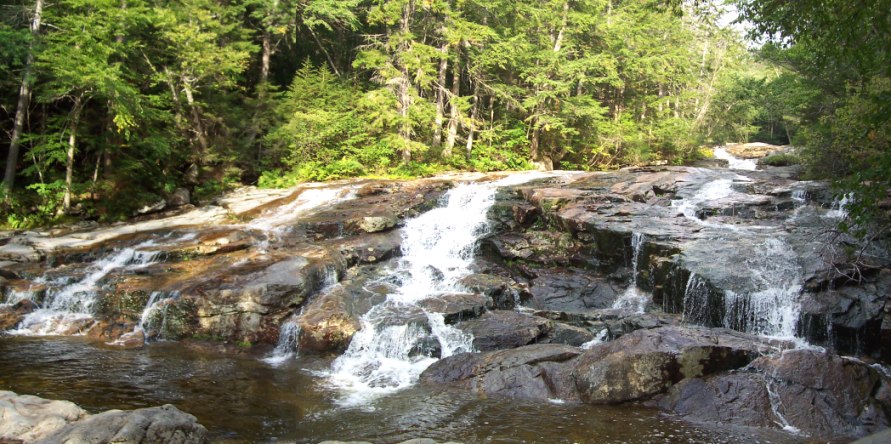 Right from the start, cascades along Cascade Brook.
Kinsman Falls
The tallest of the waterfalls along this trail.
| | |
| --- | --- |
| I am sure there was a name for this little spot . . . | |
| | |
| --- | --- |
| | A taste of the primeval woods along the way. The clouds helped soften the light. |
| | |
| --- | --- |
| The little digital camera does not do much justice to the richness of the greens, but this gives you an idea of how moist and lush the trailside is. | |
| | |
| --- | --- |
| | My little friend, the ruffed grouse, picking through a muddy part of the trail. There was a family of five, and they were not nervous about me at all. |
| | |
| --- | --- |
| There just wasn't enough time and energy for Cannon, despite how close it was. | |
| | |
| --- | --- |
| | Resting by the falls on the way down to The Basin. |